Matcha and It's Benefits
May 31, 2019
I don't think there's anyone that knows me, that doesn't know how much I love matcha lattes. Hot or iced, I LOVE them! Since I don't drink coffee, this is my go-to drink. It's what I like to have first thing in the morning, after some water.
I'm sure there are a few of you out there that are saying "what is matcha?"
Matcha is defined as a finely ground powder of green tea leaves. Benefits of the matcha are: boost in energy without the crash, focus, burns calories, antioxidants, immunity, smarter, calmness, boosts metabolism and much more.
You can buy matcha in many places. I tend to buy mine locally in New Hampshire, but you can find it in bulk on Amazon. I tried a few on Amazon, but they weren't as smooth tasting as the one that I get locally.
There are a couple ways to make/drink matcha. The first is by just water and matcha. Take 1 teaspoon of matcha and mix with about 2 ounces of water. You can mix with a small whisk made specially for mixing matcha. One fully combined, almost paste like, you drink it as is. It's a bit bitter.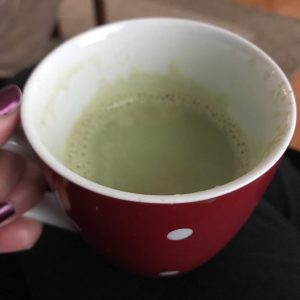 Another way to drink it is by making a latte. This is my favorite – the latte. To make a hot matcha latte, the first step would be to warm up some water, pour about 2 ounces or so into a small cup/dish and mix in 1 teaspoon of matcha. In a mug, I warm up 6-8 ounces of unsweetened almond milk (you can use any milk of choice, I prefer the almond milk) for about 1 minute 30 seconds. Once the water and matcha is mixed, and the almond milk warm, I pour the matcha into the almond milk and whisk together a bit.
Another way to make a hot matcha latte is to start with the same steps. Then pour each into blender and mix on a low speed for a few seconds until it's all combined. Then pour into a mug and you're ready to go!
And now onto iced matcha green tea lattes.
Iced Matcha Latte: To make this, start with mixing the matcha and water (doesn't have to be warm), in a glass/mug. Add some ice, 6-8 ounces of almond milk (or milk of choice) and mix it up.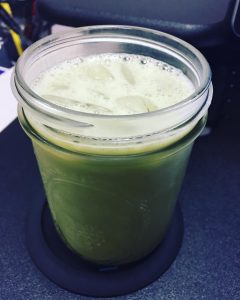 A second way to make it, is to take a mixer. Yes, like a mixer you use to make martini's. I pour about 2 ounces of water into it, put 1 teaspoon of matcha in and mix with a spoon. I then put some ice and almond milk in. I put the cover on and shake it. I then pour everything out, including the ice, into a glass.
The third way that I have made the matcha latte is in the blender. I put 8 ounces of almond milk into the blender along with the 1 teaspoon of matcha. I then pour in about 2 ounces of water (warm or not). I make sure I cover my blender and turn it on low speed for less than a minute. Then pour it out into your cup of choice! I think I recently like this option, as it mixes pretty smooth and makes it a bit frothy.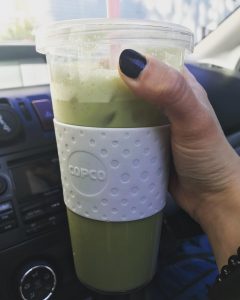 Now that you know how I make my matcha latte, you can make one of your own! Or if you live nearby, I'm happy to make one for you.
If you have had a matcha green tea latte, let me know your thoughts! And if you haven't try one and let me know what you think.