Home
November 12, 2014
Columbus Day Weekend, I took my last trip to my parents house. I say last trip because they sold it and have since, moved. As I drove up to the house, I couldn't help but get slightly teary eyed. I grew up here. It was home for so many years. It was a ranch style home with 3 bedrooms and an unfinished basement. Eventually, the house grew with us and my parents added a 2nd floor addition. This gave us 4 bedrooms on the 2nd floor and then we opened up rooms on the first floor for a bigger family room.
We use to play outside on the play set that we had in the yard, along with the sandbox that dad built us. At some point we got a jungle gym to climb on. And when Dad and Papa put up the above ground pool, well, we thought it was the best thing ever. Dad event built a deck off the pool, which we would then jump into the pool from the deck.
One winter, dad made a skating rink in the back yard. It may not have been perfectly smooth, but it sure was fun. We had a basketball hoop at the end of the driveway for when we all played basketball. Due to the many different kinds of sports played by all of us, there were all sorts of practices, games, and places to be.
We would ride our bikes up and down the driveway and then eventually up and down the street with our neighbors. When rollerblading became 'the thing',  we did that around the neighborhood as well.
I remember my mom making chicken wings and fried dough for dinner every once in a great while.
I remember dancing around the house and telling my parents I was going to be a dancer when I grew up. I took dance lessons for 8 years and then continued on throughout most of college.
My brothers and I all played soccer. My parents, for a short time, ran the recreational soccer program. We were always running around from practices and games. We even had some soccer parties at the house.
We would watch movies in the family room in the basement. And play games with friends and family. I remember when Teenage Mutant Ninja Turtles was a big hit, and we would jump around pretending to be them. You did that too, right?!
Halloweens trick or treating. I remember a few of my costumes: Jem from Jem and the Holograms, Princess, and bunny queen (totally made that up).  Wow, now I'm drawing a blank. If only I had my photos right in front me to show me.  I remember my younger brother once being Slimer from Ghostbusters one year (sorry dude).
Christmas mornings, with our stockings at the end of our beds. We'd go through the stockings and see what was left from Santa, before everyone else woke up. Once everyone was awake, we would gather around the tree and open up the presents.As I think every child does, we opened up what we wanted to play with first and then continued to open up more. I do remember one year, I received a typewriter and thought it was the coolest thing.
I'm sure there is so much more that I could mention about being in this house, but there's only so much to share….right now.
We held many family gatherings in the house. Birthday parties, Easter celebrations, graduation parties. To not have one of those celebrations in the house in the future, is a bit weird. Celebration locations will change.
The memories from the house I grew up in, will never fade. I have many photos to look back upon to remind me of all the great memories. And I hope that whomever has moved into the house, will have great memories there as well.
I leave with you a before and after photo.
Before: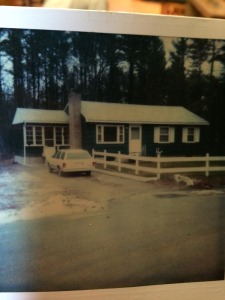 After: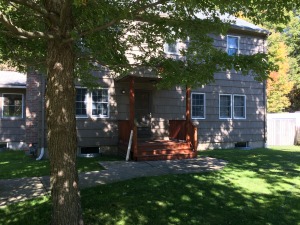 Even though I now have my own home, with my own family, I will always think of this house, that I grew up in, as my home.