Living Some More
September 25, 2018
So I forgot to add something to my live list earlier. Fly in a helicopter. You see, I've always been afraid of heights. So when my husband and I went to Costa Rica on our honeymoon, I decided to try a lot of things, including some things that had me going high up into the sky. I road an ATV through the rainforest. Not high up but it was something I hadn't done.  I hiked an active volcano in the rainforest, and it of course rained. And we forgot ponchos. Again, this didn't involve much of heights but something that was really cool to do.  And then we walked on hanging bringings. Oh my word! I can't even remember how high they were but it was amazing. I couldn't look down from where I was, I knew it would throw me for a loop, but I looked straight ahead or off over the trees. It was super cool to be up that high and see into the trees and/or above the trees. I am so happy that I experienced that.
And then a couple weekends ago, I went up in a helicopter with my husband and 4.5-year-old son. I cannot even believe that I did that. I thought I was going to be super nervous and sick to my stomach. But you know what. I really wasn't! I was also trying to keep my cool for my son. I mean, I knew he wanted to go on the helicopter, so I was trying not to be nervous. And I think it helped me. Once I sat down in the helicopter, I had the nervous feeling. I was starting to get the butterflies in my stomach. But when we started to lift off, I was OK.
Here's the helicopter….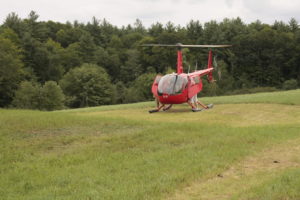 I took my phone out to take some photos. My husband had our SLR camera and took some (let's face it, better quality) pictures.  We saw our neighborhood. WOW! Our house. My parent's house. The house my aunt and Mimi live in. The speedway and drag way right down the street from us. I couldn't believe all the cool things I saw. So many mountains in the distance. We even saw a tiny bit of Boston way off in the distance! Crazy that we could even see that from where we were in New Hampshire.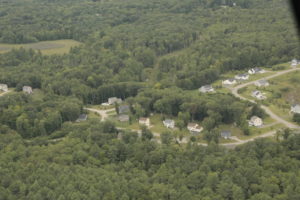 Anyways, it was really amazing to be up in a helicopter. And the look on my son's face was priceless. It was awesome. I'm not even sure if I have any other words that can describe the experience.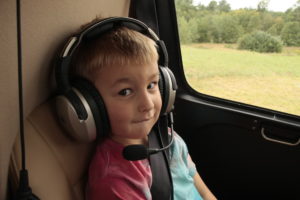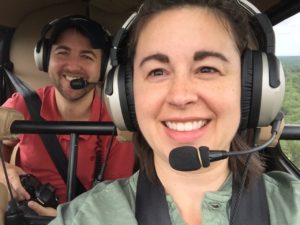 If you ever get the chance to ride in a helicopter, do it! You won't regret it! It's so different than an airplane. And so cool to be able to see from high above!