Feeling Polished
June 23, 2015
The last week in May, I went and had some "me" time. Now this "me" time, was me getting pampered at a spa. This happened to fall a couple days before my brother's wedding. So I had a couple excuses on why I was getting pampered. 🙂 Time for a manicure and pedicure!
I love going to this quaint little spa, which is housed in a log cabin-esque type of building. Each little room is unique in its own way(s). The front desk is in its own room, with a couple of chairs. Some jewelry and make-up are displayed. Some of the articles and recognition's of the spa are hung on the walls. There are rooms for waxing, facials, make up and massages. There is a room for spray tanning. And there are rooms for manicures and pedicures. And they just started doing IPL services! Whenever you go into a room, there is something very calming and relaxing about it.
On this particular day, I got a few services, but most importantly were the pedicure and manicure. I love getting my nails did. Can I say that? Well, I just did. When I get my nails done I feel so put together.
I got to work with Kassie and I have to say that I love her! We started with the pedicure. I was seated in a recliner. Yes, I said recliner! Heaven. She got my feet soaking in a warm pot (more of like a big flower pot!) of water with some salts and a towel to hang over them; a steam if you will. It was so nice! While my feet were soaking, I looked at a couple magazines. I also had a nice warm neck wrap (yes, even on a warm day in May I did this, just because I could).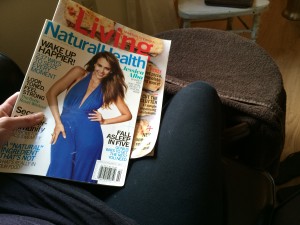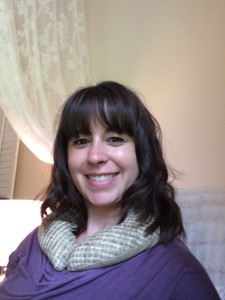 This was such a nice treat. When it was time, Kassie started scrubbing salts on my feet, washing it off, and rubbing lotion on my lower legs, feet and ankles. Ahhhh, so relaxing! Then it was onto trimming and shaping of my toe nails. And I had a tough choice on what color to paint them! I was trying to think of what I'd be wearing to the wedding that I was attending (navy blue, lace overlay, sleeveless dress with nude open-toed pumps). I could choose any color really. But I wanted to do something a little bold and bright since it was the beginning of the summer. There were so many to choose from, just take a look yourself!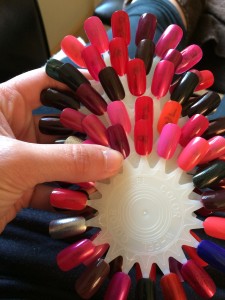 I choose a red, I believe it was part of the MInnie Collection. A nice true red, with a bit of a shine (sheen?) to it.
One of the coolest things I think about a pedicure at Polished Spa, is that when you get to the point of the polishing of the toe nails, you are offered ice cream. Yes, ICE CREAM! They have an ice cream of the month that you can receive when having a pedicure. There were 2 choices this day. Chocolate spice and Vanilla with chocolate chunks and chunks of Nutella. I chose the vanilla with chocolate chunks and chunks of nutella. OMG. It was DELICIOUS!! This was probably one of my favorite by far! Sooo good! I didn't want to finish it. I savored that ice cream while my nails were being polished!
Once my toes were all prettied up, it was time to move onto my finger nails. I moved from the recliner to a nice chair at a manicure station. Most of the furniture is a little antique-y, but oh so cute. I was getting a gel manicure, so Kassie did her routine of things. Cleaned up the nails a bit, shaped the nails and then polish. When it came time to choose a polish for my finger nails, I again wasn't sure, but still wanted to be bold, like my toes. With Kassie's help, I chose another true red and added a bit of a shimmer to my ring finger nails on each hand. It came out so nice! I loved it!
I told Kassie I would be back again for services.
I have to add that I was lucky enough to have Tiffany for a pedicure before too and she did a great job as well. Both Kassie and Tiffany are wonderful to work with. They are personable and professional. I also want to try some other services, such as facials, sunless tanning, a massage (I am hearing awesome things about Hannah, their massage therapist), or maybe even an IPL service. I highly recommend going to Polished Spa in New Hampshire if you want your nails painted, skincare needs,etc. Feel the need to be polished and feeling refreshed? I suggest giving Polished Spa a call. 🙂